Why Dornach, a destination barely connected to the novel in progress, for three of the sixteen days of the trip? Not to sound flippant, but I did it because I could. In scheduling a lengthy journey, I've learned to build in some flexibility; attention overload can sometimes strike when attention is needed most. With Internet booking services, I only have to make hotel reservations a few days down the road. Besides, I'd just gained a day by scratching Lake Constance.
In addition to a personal interest in the town's most famous citizen—I'll get to him in a moment—details associated with Dornach kept popping up in unexpected places in my reading and research. On the intuitive level, repetition is a signal that an area may be due attention. Such flukes get me mumbling: there's got to be a connection here somewhere. (I won't go into particulars; just want to mention how—not scientific, I admit—I catch the whiff of a potentially important clue for my writing and for my life.)
But Dornach is already well known as the home base of Rudolf Steiner (1861- 1925), an Austrian philosopher, social reformer, architect, and educator, and remains headquarters for the spiritual movement, Anthroposophy, he founded. Certainly one of the great visionaries of the 20th century, Steiner published about forty books, and his lectures make up another 300 volumes, covering a wide range of themes. He designed numerous buildings, including the First and Second Goetheanums in Dornach, named after Goethe, with both buildings listed amongst the most significant works of modern architecture. The First Goetheanum was destroyed by fire on New Year's Eve in 1923 to be replaced by the second, completed after Steiner's death. Again, I'd seen the pictures and read a lot it, but I didn't get it until I saw it for myself.
It was still quite cold on Sunday morning when I hiked up the hill above the quaint little town in virtual lockdown for the Lord's Day. But all other signs were positive: the sun was out, the grass was a brilliant green after the rain, and puffy clouds scudded across a blue sky above the rounded hills. Just like the pictures of Switzerland.
I'd picked out the Goetheanum from a distance, but coming face-to-face with it suddenly at the top of the steep path made me feel like I'd entered an altered state. If Steiner wanted to make sure his second masterpiece did not burn down like the first, this massive edifice of concrete, shaped as if playfully tossed from clay, looks like it will outlast the pyramids.
I didn't know if it would be open on Sunday; but there were plenty of people around the grounds, walking meditatively or frolicking with their kids or pets. Lush flower and vegetable gardens covered the hillside, and cows with a calf grazed in a pasture on the slope. I was euphoric: the combination of exotic and bucolic caught me thinking: I could easily live and work here.
Going in, I felt like an intruder, tip-toeing so as not to disturb the tranquil order of a place designed to surprise one's sense of perspective with every turn. But the receptionist not only welcomed me but also jumped on the phone and arranged a personal viewing of two of the Goetheanum's greatest treasures: Steiner's most famous sculptural work, The Representative of Humanity, a nine-meter high wood rendering executed as a joint project with the sculptor Edith Maryon, and a detailed model of the First Goetheanum, still under construction. Its builder—I did not get his name—was there and told me to stoop under (it was on sawhorses) and look inside. I was Gulliver in Steiner's first temple; the interior detail was as precise as the outer.
And the visit continued on that way. Towards the end of the day, I took some quiet time on one of the benches strategically placed to induce meditation, or so it seemed. It's a rare day on planet Earth that seems perfect all the way through. This was one of them. I was no longer asking: Why Dornach?
On Monday I moved from the little Mexican-operated hotel in town I'd booked on the web to the Gastehaus Friedwart, a bed-and-breakfast adjacent to the campus, replete with appropriate décor, including Steiner's trademark wood doors and curved staircases. The path leading up from my new abode to Goetheanum went past the memorial glade where Rudolf and Marie Steiner's ashes were distributed after their deaths. I used the facilities to connect to the Internet, catching up on mail and making reservations for the days, back in Germany, to come. Then it was to the extensive bookstore for hours of browsing, even though the English section was limited. I came away with a bag of reading, mostly rarer works of Steiner I didn't already have, that I am still working through.
Dornach is, however, far enough north of the actual Alps that the mountains can't be seen from there. On Monday night, with most of what I could do as a visitor in Dornach done, I decide I had to make the road trip to see the mountains that Hannibal crossed on elephants. So Tuesday, despite gray and threatening skies, I headed south toward the city of Lucerne. Perfect was still with me: a sudden change in weather just before I got to Lake Lucerne lifted the curtain of clouds that had been covering the mountains just beyond the city. On cue they revealed themselves as if they knew I was coming just to see them. I drove right past the town and lake and up into them, all my Colorado driving skills in gear.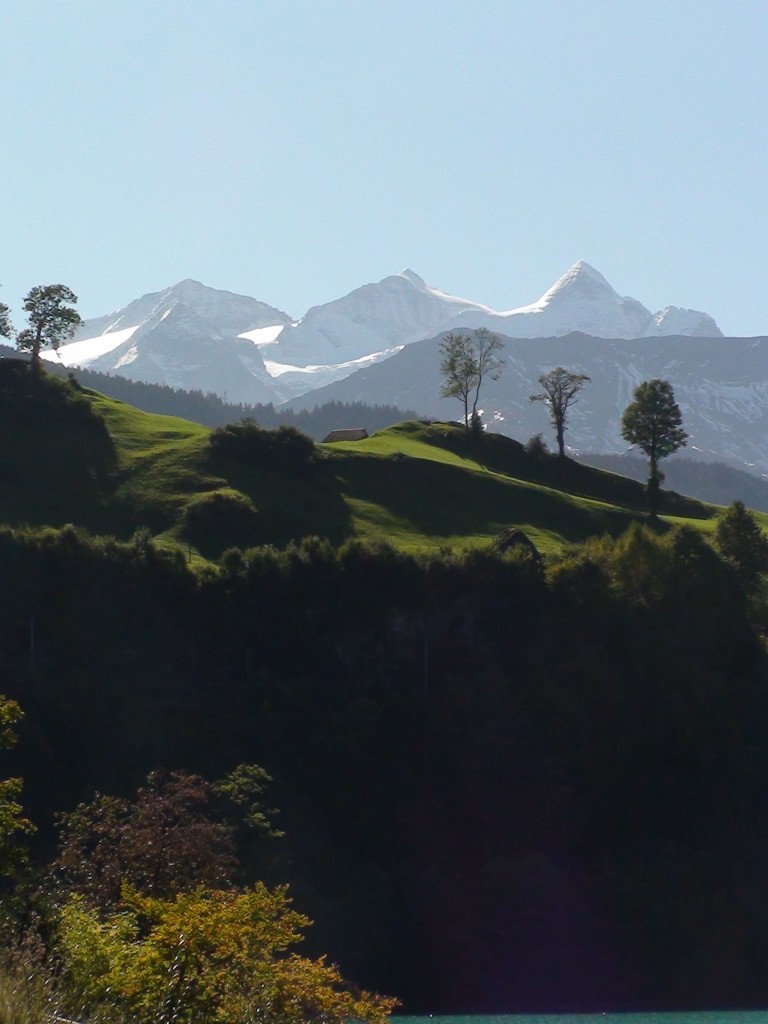 The photo above needs no words to go with it. It is an image of a beautiful planet at its most beautiful and a reflection of a state of being far beyond words.