My second major novel, Channel of the Grail: A Novel of Cathars, Templars, and a Nazi Grail Hunter (formerly titled The Perfect) was released on May 3, 2016, and is now available for purchase either in print or eBook through Amazon.com
Even death cannot stop two hearts that beat as one.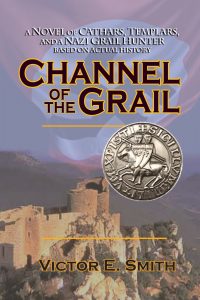 In May 1939, German newspapers announced the untimely death of 35-year-old author Otto Rahn, applauding him as "comrade, decent SS-man and creator of outstanding historical-scholarly works."  But his Swiss lover Raymond knew that Otto had neither died accidentally nor as a member of the infamous SS.
Before the Nazis, Rahn had researched the medieval French Cathars, a heretical sect exterminated by war and the Inquisition, and he published his account of this tragedy as Crusade against the Grail.
His book fascinated Reichsführer-SS Heinrich Himmler, an occult fanatic, who then enticed Otto into the SS as a historical researcher. Gambling that Otto's psychic talents might lead to the recovery of the coveted Holy Grail for the Nazis, Himmler coddled the writer, even condoning his illegal homosexuality. Then Rahn came to discover that the SS and its operations were far from benign.
After Otto's demise, Raymond knew that his partner's work deserved recognition, but as a genuine Grail bearer and not as a member of the SS. To do this, Raymond had to recover his own unique gift: a phenomenal memory that took him back to the Cathar era where the men's mutual mission, which could only be carried out with them riding two to a horse in the way of the Knights Templar, was first entrusted to them.
Channel of the Grail is a visionary novel, historically based on the medieval Cathar persecutions and the 20th century life and times of Otto Rahn.
Advance Praise for Channel of the Grail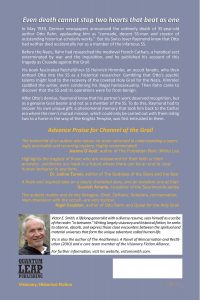 The brainchild of an author who leaves no stone unturned in understanding a seemingly unsolvable and recurring mystery. Highly recommended!
Jeanne D'Août, author of The Forbidden Relic (White Lie)
Highlights the tragedy of those who are massacred for their faith or their ancestry…reinforces our hope in a future where there can be an end to cruel human behavior in any form.
Dr. Jodine Turner, author of The Goddess of the Stars and the Sea
 A fresh and inspired take on a dearly cherished story, and an excellent one at that!
Scarlett Amaris, co-author of the Saurimonde series
The subject matter and its key linkages—Grail, Cathars, Templars, reincarnation, Nazi obsession with the occult—are very topical.
Nigel Graddon, author of Otto Rahn and Quest for the Holy Grail