The Making of Channel of the Grail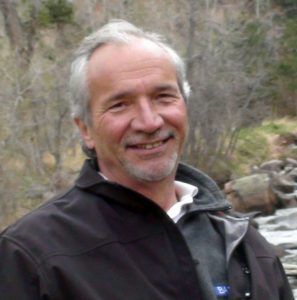 Victor E. Smith
Like its older sibling The Anathemas published by Outskirts Press in 2010, Channel of the Grail spans two different lifetimes in the story of its main characters and thus continues to explore reincarnation as an essential element in the drama of human evolution. Capitalizing on four decades developing a multi-lifetime model of the visionary novel, in this work I aim to take its intricate elements into deeper waters.
A true visionary work is discovered rather than fabricated, I have found. My readers say that I know how to pick interesting topics. I consider it fortunate that these topics have picked me. The adventure in my creative work has been through the experience of discovery in the spiritual, mental, emotional and physical realms from which the story emerges. As with the Stanislavski method of acting, I have to live my book as nearly as possible before writing it.
Road Research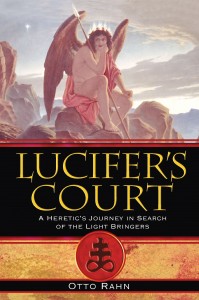 Lucifer's Court by Otto Rahn (1937)
Channel of the Grail bridges two historical periods in two parts of Europe. Thus I took two literal journeys in the course of researching it. (If that sounds more like fun than labor, know that I am blessed with a career where work and play aren't very different.) Before setting out, I pore over maps, electronic and paper, of my target area, approximating time and mileage and making daily itineraries. Once in the destination area, I prefer to go by car. Many of the places I am most interested in seeing are off the beaten tourist track.
In August 2010, I visited the Languedoc-Roussillon-Provence regions of southern France, retracing the footsteps of my historical subject, Otto Rahn, who documented his travels through the area in the 1930s in his second book, Lucifer's Court: A Heretic's Journey in Search of the Light Bringers. I had, of course, read everything about the Cathars I could get my hands on, but I wanted to steep my intended story in the environment in which this mysterious heretical sect blossomed, only to be eliminated in the 13th century by a bloody Crusade and the relentless Inquisition. Fortunately, Cathar history and spirituality is enjoying a healthy revival after the publicity given to its cause by several 20th century scholars in addition to Rahn. Many of their castles and historical places have been restored and opened to tourists. (To read my blog about that amazing journey day-by-day, choose the category Travel France 2010 or start with the first blog entry and click forward.)
In October 2011, a second trip took me to the protagonist's homeland, Germany, and the adjoining countries connected to his story, Austria and Switzerland. There I focused on the decade prior to World War II when Nazism was still burrowing in. It was an emotional journey for a second-generation American—my mother was born in Freiburg, which I visited, and she was able to get out of the country before the war—whose Jewish great-grandmother has to be counted among the victims of the Holocaust. (To read my blog of that poignant adventure, choose the category Travel Europe 2011 or start with the first blog entry and click forward.)
Home Work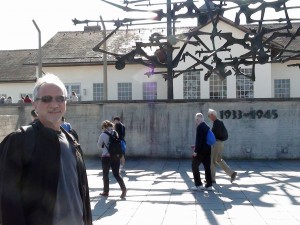 The Author in Dachau Concentration Camp 2011
But all the travelling, literally as above or virtually on the Internet, must eventually come down to, as my journalist father put it, "the application of the seat of the pants to the seat of the chair," be it the meditation chair where I access the spiritual and paranormal realms about which I write or the office chair in front of the keyboard. Much of my time between that last physical journey and the book's completion was spent in those two chairs.
The finished novel is merely the record, compiled to the best of the writer's ability, of the intertwined journeys through the physical, mental, emotional and spiritual realms. For me, undertaking such work requires an act of faith. With only a vague inkling that I am going in a generally-right direction, I start walking, blindfold on, arrival time undetermined, and destination unknown, nevertheless believing that my pilgrimages, external and internal, will arrive to places worth writing about. Then I allow something larger than me–it need not be defined–to take the wheel. I release myself to experience what Carl Jung says about the visionary creative process:
Art is kind of an innate drive that seizes a human being and makes him its instrument. The artist is not a person endowed with free will who seeks his own ends, but one who allows art to realize its purposes through him.
Carl Jung, "Psychology and Literature," Modern Man in Search of a Soul, p. 169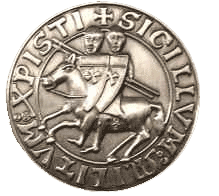 "Two to a horse." The Seal of the Knights Templar
As was the case with The Anathemas, something compelled me to bring Channel of the Grail into existence. Whether this impulse came from Universal Consciousness, the Akashic records, some personal karma, or the Easter Bunny seems not to matter.
This mysterious process is reflected in something I have Otto Rahn say in the novel to summarize his own life:
When my father gave me that copy of Parzival, he handed me my life plan. By reading it, I was anointed an Arthurian Knight, one compelled to seek the Grail. It was my star…. Once I embraced my destiny, the entire universe—every person I met, every place I went, every situation I encountered, and every idea that rose in my mind—carried me towards the Grail.
Edit