References
For The Anathemas
---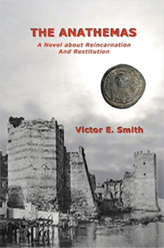 Click the above image to buy The Anathemas at Amazon.com
Bibliography
JUSTINIAN AND THEODORA
Barker, John W. Justinian and the Later Roman Empire. The University of Wisconsin Press, 1966.
Browning, Robert. Justinian and Theodora. Thames & Hudson, 1987.
Frazero, Carlo M. Life and Times of Theodora. Alvin Redman, London, 1961.
Lamb, Harold. Theodora and the Emperor. Doubleday, 1952.
BYZANTINE EMPIRE, History
Ash, John. A Byzantine Journey. Random House, 1995.
Downey, Glanville. Constantinople in the Age of Justinian.University of Oklahoma Press, 1960.
Gibbon, Edward. History of the Decline and Fall of the Roman Empire. Volume II. Edited by J.B. Bury. The Modern Library Edition, 1995.
Graves, Robert. Count Belisarius. Penguin Books, 1954.
Norwich, John Julius. Byzantium, The Early Centuries. Knopf, 1989.
Procopius. History of the Wars, Secret History and Buildings. Trans.by Averil Cameron. Twayne Publishers, 1967.
Procopius. Secret History. Translated by G. A. Williamson. Penguin Books, 1966.
MISCELLANEOUS
Bacon, Margaret Hope. The Quiet Rebels: The Story of the Quakers in America. New Society Publishers, 1985.
Bromberg MD, Walter. Man Above Humanity, A History of Psychotherapy. Lipincott, 1954.
Jelavich, Barbara. History of the Balkans. CambridgeUniversity Press, 1983.
Schaff and Wace. Seven Ecumenical Councils, A Select Library of Nicene and Post-Nicene Fathers of the Christian Church, Vol. XIV.
Thoreau, Henry David. Walden. TheRiverside Press, 1957.
HEINRICH SCHLIEMANN
Brackman, A. C. The Dream Of Troy. Mason and Lipcomb Publishers, 1974.
Duchene, Herve. The Golden Treasures of Troy.University ofTexas, 1997.
King, Wellington. Heros & Mythos. University ofTexas, 1997.
Ludwig, E. Schliemann: The Story Of A Gold-Seeker. Little, Brown, and Company, 1931.
Poole, G. and Poole, L. One Passion, Two Loves: The Story Of Heinrich And Sophia Schliemann, Discoverers Of Troy. Thomas Crowell, 1966.
Traill, D. A. Schliemann Of Troy: Treasure And Deceit.St. Martin's Press, 1996.
REINCARNATION
Bernstein, Morey. The Search for Bridey Murphy. Doubleday; New edition, 1989.
Danelek, J Allan. The Mystery of Reincarnation, The Evidence & Analysis of Rebirth. Llewellyn Publications, 2005.
Frieling, Rudolph. Christianity and Reincarnation. Floris Books, 1977.
Hall, Manly. Reincarnation, The Cycle of Necessity. Theosophical Research Society, 1978.
Head, Joseph and Sylvia Cranston. Reincarnation, The Phoenix Fire Mystery. Julian Press, 1977.
Head, Joseph and Sylvia Cranston. Reincarnation: an East-West Anthology. Theosophical Publishing House, 1975.
Head, Joseph. Reincarnation in World Thought. Julian Press, 1967.
MacGregor, Geddes. Reincarnation in Christianity. The Theosophical Publishing House, 1978.
Stearn, Jess. Edgar Cayce's Mysteries of Reincarnation: Intimates through Time. Signet, 2000.
Stearn, Jess. The Search for a Soul: Taylor Caldwell's Psychic Lives. Doubleday, 1973.
Stearn, Jess. The Search for the Girl with the Blue Eyes. Doubleday, 1968.
Steiner, Rudolph. Reincarnation and Immortality. Rudolph Steiner Publications, 1970.
Stevenson, Ian. Twenty Cases Suggestive of Reincarnation.University ofVirginia Press, 1980.
Wilson, Colin. Afterlife. Doubleday, 1987.
To recommend other titles to be added above, click this email link, vic@victoresmith.com, put the words "Title Recommendation" in the email subject line and include title, author, publisher and date in the body of the message. Include a short summary of the content that makes it appropriate for listing here.
---
Edit